For many years, Marty Hinz, M.D. has claimed that amino acid supplements can improve various conditions by balancing neurotransmitter chemicals in the brain. He owns a lab that is used to determine whether imbalances exist. He also gives seminars on how to prescribe such supplements, and his daughter, Amy M. Gunthert-Hinz, owns and operates a company that sells them. This article, which is based on documents I have found online plus e-mail exchanges with Dr. Hinz, explains why I am skeptical of his views and activities.
Hinz's Background
Martin Charles Hinz, M.D. (1954– ) graduated from the University of Minnesota Medical School in 1983 and completed about half of a 3-year family practice residency at a facility in Iowa. He was licensed in Iowa from 1983 to 1985, in Wisconsin from 1985 through 1999, and in Minnesota from 1988 onward. The Wisconsin Department of Safety and Professional Services database says that he practiced emergency medicine. Other documents indicate that he practiced emergency medicine for eleven years, but I don't know whether it was all in Wisconsin or whether some was done in Minnesota. From 1994 through 2002, he worked as a family practitioner and did research at the Morgan Park Clinic in Duluth, Minnesota.
Records from the Minnesota Board of Medical Practice indicate that Hinz was subjected to regulatory actions over a 9-year period but now has a clear Minnesota license:
In 1996, while he was hospitalized for "bipolar disorder with sleep deprivation," the board suspended his license [1] "due to mental impairment." [2]
During the period of suspension, based on a review of 21 patient charts, the board had concerns about his clinical skills and competency. In 1997, the situation was settled with a voluntary agreement and order under which he was placed on probation for five years and agreed to obtain psychiatric treatment as needed, take additional educational measures, and have his practice monitored [3].
In 1999, the board noted that his mental condition was satisfactory and he had passed a skills assessment. But it reprimanded him and fined him $3,000 for failing establish a relationship with a supervising physician [4].
In 2001, based on criticism of Hinz's care of 26 patients seen after his suspension was lifted in 1997, the board ordered him to complete more courses, undergo twelve 2-week clinical training periods, practice only in a group-practice setting, and engage a supervisor. He also agreed to pay a $23,000 civil penalty to partially reimburse the board for its investigative costs. In 25 of the 26 patients, the board concluded that he had "departed from or failed to conform to the minimal standards of acceptable and prevailing medical practice." [2]
In 2005, the board concluded that he had complied with the 2003 order and restored him to full "unconditional" license status [5].
The medical boards in Iowa and Wisconsin reacted to the disciplinary actions in Minnesota. Iowa placed Hinz's license on indefinite suspension [6], and Wisconsin imposed limitations [7].
In documents I have gathered, Hinz describes how his involvement with amino acid products developed during his first few years at the Morgan Park Clinic. While prescribing weight-loss drugs that affect serotonin and norepinephrine levels, he concluded that certain amino acids could prolong their effectiveness. Later he discovered an amino acid formula that he believed could substitute for the weight-loss drugs [8]. In 1995, he formed a company called NeuroResearch to develop a computer program to help physicians who treated obesity. In 1999, he began distributing it and, in 2001, he reported that more than 200 clinics in the United States were using it. He also developed products for treating obesity and other conditions and began patenting them and offering seminars on their use. A 2003 flier advertising his seminars reported that more than 300 physicians had attended the seminars in the first half of 2003 and more than 500 clinics were using products developed by NeuroResearch in patient practice [9].
A 2005 flier for Hinz's seminars claimed that his methods, when mastered, would provide (a) 100% resolution of depression symptoms, (b) an average weight loss of 16.9 pounds in the first month, (c) an average weight loss of 8.4 pounds per month in the first year, (d) relief for 85% of patients previously diagnosed with migraine headaches, (e) effective treatment of Parkinsonism without the top 10 problems encountered with traditional treatment, and (f) response to treatment by 90% of ADHD patients [10]. Although such results, if confirmed, would have revolutionized the practices of psychiatry and neurology and made headlines everywhere, I have not encountered any evidence that he reported them through any medical journal or public news outlet.
Hinz told me that in 2002 he stopped seeing patients at the clinic and focused on investigating and promoting his theories and practices related to neurotransmitters. That same year, he incorporated NeuroResearch and published a booklet called "Neurotransmitter Testing and Amino Acid Therapy" on the company's Web site. In 2003, he launched DBS Laboratory Services, Inc., to do urine neurotransmitter testing. One of the lab's publications was a booklet that called NeuroResearch the "world leader in neurotransmitter clinical research" and described how neurotransmitter tests could guide administration of its supplement products [11]. In 2005, Hinz incorporated the West Duluth Distribution Company, which did business as CHK Nutrition and was directed by his daughter Amy Gunthert-Hinz. In 2011, he terminated his relationship to Duluth Distribution and transferred ownership of CHK to his daughter. In 2016, Hinz disclosed that his wife was a shareholder in the parent company.
In 2006, DBS Labs issued a 72-page "catalog" that promoted Hinz's seminars and spelled out his theories in detail, including the notion that "urinary neurotransmitter testing, when used properly with amino acid therapy, is an 'amino acid challenge test.'" The document stated that DBS was performing over 20,000 neurotransmitteer assays a year [12].
Hinz's Patents
Hinz has been granted many patents. One titled "Serotonin and catecholamine system segment optimization technology," describes "a method of treating neurotransmitter dysfunction" that combines amino acids and other nutrients. This classifies 25 conditions and "central nervous system neurotransmitter diseases" and lists 24 drug or drug categories that "exert their action by redistribution of neurotransmitters." [13] Another patent, titled "Comprehensive pharmacologic therapy for treatment of obesity," describes supplementing 2 or 3 prescription weight-loss drugs with amino acids and other nutrients [14]. The rest are similar versions of these two. Patents, of course, are not evidence that a treatment works. Establishing efficacy requires randomized controlled clinical trials.
Hinz's Research
Neurotransmitters, also known as chemical messengers, are chemicals made within the body that enable signals to pass from cell to cell within the nervous system. Many are synthesized from precursors such as amino acids that are readily available from the diet. Serotonin helps control appetite, sleep, memory and learning, temperature, mood, behavior, muscle contraction, and functions of the cardiovascular and endocrine system. Norepinephrine, which focuses on the central nervous system, is related to patterns, focus, and alertness. Hinz correctly states that neurotransmitter imbalances are associated with Parkinson's disease, depression, insomnia, ADHD, anxiety, memory loss, dramatic changes in weight, and addictions. But I believe that his theories and protocols go far beyond what has been established.
Hinz asserts that (a) neurotransmitter imbalances or dysfunctions are present in many diseases and conditions, (b) neurotransmitter levels in the brain can be optimized by administering amino acids and other nutrients that he describes as precursors, and (c) special "3-phase testing" available at DBS Labs can help to determine how neurotransmitter levels in the brain respond to the administration of the products he recommends.
A bibliography posted on the NeuroResearch Web site in 2017 lists 31 publications—21 of them with Hinz as an author or co-author—that supposedly back his methodology [15]. However, only three of the 21 described what happened to patients who were managed with a Hinz protocol. One was a retrospective review of the charts of 85 patients with attention deficit hyperactivity disorder who were treated with amino acid precursors for 8-10 weeks [16]. Another reported that depressed patients suffering from bipolar disorder improved when given amino acid precursors [17]. The other reported that patients with obesity or depression improved when given amino acid precursors [18]. However, (a) two of the reports did not specify who managed the patients, (b) none of the reports indicated how the patients were selected for the study or whether the selection included randomization; the lab tests used to evaluate the patients' neurotransmitter status were not independently validated as clinically useful; (d) the rating systems used to judge the severity of the patient's condition were either not disclosed or were not clearly described, and (e) none of the studies had a control group. All of these shortcomings mean that the reported findings are not evidence of effectiveness. In addition, taken together, the three clinical studies involved only four of the many conditions for which Hinz and his network have recommended products.
Despite this, Hinz and many of his followers are using his publications as marketing tools by representing that they have demonstrated that his methods are effective. The company's April 2018 conference brochure, for example, states: "The foundation of this conference is 22 peer-reviewed papers authored by the lecturers." [19] NeuroResearch's logo states that the conferences are "presenting peer-reviewed original research papers that were co-authored with faculty at the University of Minnesota Medical School." That claim is also interesting because when I checked the university's faculty directory, the only co-author it contained was George J. Trachte, Ph.D., whose name appears in only two of the papers and who told me that he was involved in the data analysis of neurotransmitter levels but not any results with patients. The registration fee for the April 2018 conference—which was approved for 15 hours of AMA Category I CME credit—ranged from $399 to $625 depending how far in advance it was paid. Brochures for his 2019 seminars do not mention CME credits.
All of Hinz's articles were published in peer-reviewed journals published by Dove Medical Press, which offers "open access" that requires payment of a processing fee as a condition of publication. Dove's fees for U.S. authors have ranged from $1,495 in 2009 to $2,300 in 2016, with a 10% discount to "favored authors." Assuming that Hinz enrolled in the favored author program, I estimate that the total he and/or his coauthors paid for their Dove publications was about $34,000.
In 2013, Dove Press was involved in a scandal that arose when a researcher sent a fatally flawed paper to one journal published by each of 304 open-access publishers and reported that more than half, including Dove's Drug Design, Development and Therapy, had accepted it for publication [20]. One month later, the Open Access Scholarly Publishers Association (OASPA), the standard-setting organization for open-access publishers, terminated Dove's membership for at least one year after concluding that there had been "a lack of sufficient rigour in editorial processes and that for Dove . . . the issues may extend wider than the single affected journal." [21,22] In 2015, OASPA reinstated Dove's membership after concluding that it had introduced improvements that included listing of the editors who provide oversight to the editorial evaluation of its articles [23]. It may be significant that 15 of Hinz's 21 articles were published before the OASPA termination took place and five others were published before Dove's membership was reinstated.
All respectable scientific journals require that authors disclose financial relationships with entities that could be perceived to influence or give the appearance of potentially influencing what they wrote in the submitted work. Two of Hinz's articles contained no disclosures. The rest made some but left out important connections and failed to explain the reason(s) why the disclosed entities was relevant. For example, when Hinz disclosed a relationship with West Duluth Distribution Comopany, he did not explain that it was the parent company of CHK Nutrition, that his daughter managed it, or that his wife was a shareholder. I have asked Dove Press to correct this situation and expect that they will eventually do so [24].
In 2018, Hinz told me that his research database contained clinical data from 1994 to present and encompassed four million patient-days of treatment from more than 2,000 medical practices. It is not clear to me, however, what practical conclusions can be drawn from the data. He also told me that he received no money from the sale of nutrients and that he still did consultations on 25 to 40 patients a week, most of them seen through an Internet channel with their attending practitioner present.
FDA Actions
Federal laws state that products marketed for preventing or treating diseases are drugs and that new drugs cannot be marketed in interstate commerce without FDA approval and adequate directions for use. In 2005, the FDA notified Hinz that the claims on NeuroResearch's site that promoted his amino-acid products to treat diseases caused the products to be drugs within the meaning of the Food Drug, and Cosmetic Act. The warning letter also stated that the products were unapproved new drugs within the meaning of the Act that could not be legally marketed and were misbranded because they lacked adequate directions for use [25]. Hinz had been making similar claims in seminars sponsored by his company, but the FDA did not mention this in its warning letter.
Hinz replied that he would "refrain from making drug claims." In 2006, NeuroResearch changed its Web address and described itself this way: "NeuroResearch is dedicated to medical research and medical education through its conferences which are certified for AMA category I continuing medical education. Posted on this web site are results of NeuroResearch studies and research." However, the site continued to make claims similar to those to which the FDA had objected.
In 2010, for example, NeuroResearch posted a "patient guide" that included a "partial list" of what it called called "primary neurotransmitter diseases," a "partial listing" of 30 drugs that it claimed would deplete neurotransmitters, and assertions that the company's amino acid protocols would provide the nutrients to build neurotransmitters [26]. The so-called "primary neurotransmitter diseases were ADHD/ADD, adrenal dysfunction, adrenal fatigue/burnout, Alzheimer's disease, anorexia, anxiety, bulimia, chronic fatigue syndrome, chronic pain, cognitive deterioration, cortisol dysfunction, Crohn's disease, dementia, depression, disorder (OCD), fibromyalgia, hormone dysfunction, hyperactivity, impulsivity, inappropriate aggression, inappropriate anger, insomnia, irritable bowel syndrome, management of chronic stress, menopausal symptoms, migraine headaches, nocturnal myoclonus, obesity, obsessionality, obsessive compulsive, organ system dysfunction, panic attacks, Parkinsonism, phobias, premenstrual syndrome (PMS), psychotic illness, tension headaches, traumatic brain injury, and ulcerative colitis. The brochure also claimed 100% success in the treatment of depression and 90% in the treatment of migraine headaches. Hinz's seminars, of course, continued to promote the use of amino acid products for managing what he called neurotransmitter diseases. In 2011, CHK distributed brochures promoting the use of its products for most of these problems.
In 2010 and 2011, an FDA inspector noted that NeuroResearch and CHK Nutrition operated in tandem by links between their Web sites, referrals of customers and prospective customers from one to the other, and including handouts written by Dr. Hinz with product shipments. In 2011, the FDA filed a complaint [27] and obtained a permanent injunction under which Hinz, his daughter, and their companies were required to (a) remove from their product labels, labeling, promotional material, websites, and other media all representations that their products or the ingredient combinations in their products cure, mitigate, treat, or prevent disease, and (b) notify all previous customers that the products could not be sold for such purposes [28].
After the injunction was issued, NeuroResearch's Web site removed all treatment claims but continued to offer continuing medical education courses on managing what Hinz considers to be diseases and conditions associated with neurotransmitter dysfunction or depletion. However, a site operated by a chiropractor has posted a 4-page brochure titled "Monoamine Transporter Optimization" that appears to have been published in 2012 by NeuroResearch and distributed at one of its conferences. The brochure list 48 diseases and conditions that it calls "neurotransmitter dysfunction states" plus the "primary neurotransmitter(s) associated with relative nutritional deficiency symptoms for each" and states:
With administration of proper levels of balanced serotonin and dopamine precursors guided by MTO the pre-synaptic receptors are able to establish synaptic neurotransmitter levels high enough to facilitate the post-synaptic electrical flow needed for relief of relative nutritional deficiency symptoms. Increasing synaptic neurotransmitter levels is analogous to turning up the voltage causing more electricity to flow through damaged postsynaptic neuron bundles [29].
For about a year, beginning in 2013, the NeuroResearch Web home page contained a link to a sample letter on the site that doctors could submit to insurance companies. The letter said, in part:
This is to formally request insurance coverage of L-dopa and the supporting nutrition formulas which peer-reviewed medical literature found on PubMed indicates is required to prevent side effect and problems with [sic] only L-dopa is administered. Specific formulas that authorization is requested for include 1) D5 (5-HTP, tyrosine, cofactor formula) 2) D5 Mucuna 40% (L-dopa active ingredient, pills and/or powder) 3) CysReplete, for management of sulfur amino acid depletion by L-dopa and L-tyrosine 4) TyrosineReplete pills and/or powder (for the management of on/off effects and dopamine fluctuations associated with L-dopa). The cost of these nutrient [sic] is less than previous medications that Mr. Doe has taken and for this patient more effective.
The sample letter document also advised—in boldfaced red type—that if the insurance company denies coverage, immediately send an appeal letter to the state insurance commissioner [30].
One of Hinz's papers claims that "it is postulated that over 80% of humans suffer from symptoms relating to a serotonin and or catecholamine deficiency" but cites his only own papers to support this statement [31]. In 2015 and 2016, the NeuroResearch Web site said "We are doctors who developed than [sic] published nutritional management of over 200 serotonin and/or catecholamine-related diseases and illnesses with OCT-2 guided nutrient administration." [32] In 2018,  the site stated that NeuroResearch conference speakers would discuss topics related to this graphic and available options for managing the problems it described: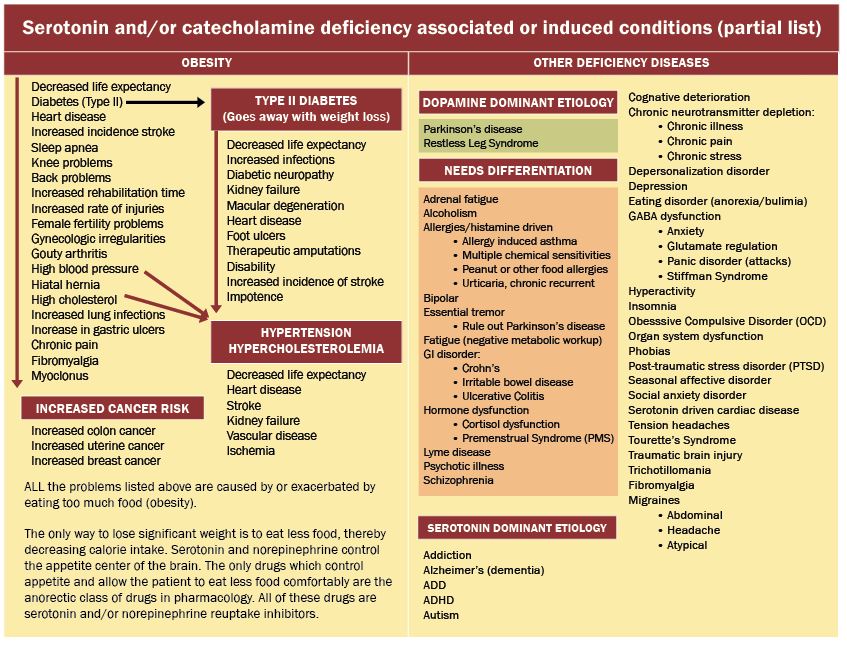 CHK Nutrition no longer makes treatment claims for its products on its Web site. Neither does DBS Labs, but a site operated by one of its clients contains a 12-page DBS "catalog"—apparently created in 2013—that spells out in detail how patients can be tested for supposed neurotransmitter deficiencies and treated with CHK's products [33]. The same site also displays a lab report dated March 24, 2016 [34] and a "confidential consult" from Hinz that offers access to "advanced training and protocol" videos on the NeuroResearch site [35].
Exaggerated Claims Trigger Additional Medical Board Action
In 2018, another Hinz Web site—parkinsonsclinics.com ("the official web site of the Hinz Protocol™")—displayed the above graphic and invited people to request a free evaluation. The site contained a testimonial from Hinz that said: "Quietly in the background, since 1997, I have reinvented the medical science foundation of Parkinson's disease." In February 2018, it also said, "We are proud to say, 'We treat and do things for our Parkinson's disease patients that most of the doctors of the world believe are impossible.'" After I asked the Minnesota Board of Medical Practice to determine whether that claim was improper, Hinz replaced it with a statement that for the past 20 years, his role had been one of "consulting with doctors on their most difficult cases." [36] He also removed the graphic.
In December 2018, the Minnesota board received another complaint alleging that Hinz was practicing telemedicine outside the United States and providing medical consults from his home to another state without a medical license in that state. Based on these complaints, the board launched an investigation that found:
During the consultations, Hinz did not disclose his financial interest in CHK Nutrition or DBS Laboratories to the patients or providers.
Hinz admitted that during the consultations he interacted with patients and received royalties from CHK Nutrition for the products he recommended during the consultations.
In August 2018, the FDA had sent Hinz a letter stating that he had 

 failed to comply 

with the Food, Drug, and Cosmetic Act ("Act") and the FDA Consent Decree and 

that CHK supplements he recommended were "drugs" under the Act 

based on his advertising of such products as being used for the treatment of diseases.
In March 2020, the board reprimanded Hinz, assessed a civil penalty of $7,187.80, and ordered him to complete coursework on medical ethics [37].
Other Hinz Collaborators
In the early 2000s, Hinz began collaborating with Gottfried Kellermann, Ph.D., who operated NeuroScience, Inc., in Osceola, Wisconsin. In 2002, they provided a seminar, sponsored by NeuroScience, called "A New Direction in the Treatment of Neurotransmitter Diseases." A brochure for the seminar said they co-founded he company and that Hinz was its medical director. However, they subsequently parted and wound up in a lengthy court battle during which a jury awarded Hinz $1,989,373 for breach of an agreement, but the verdict was overturned on appeal [38]. In 2006, the FDA warned Kellermann to stop claiming that his amino acid products would correct neurotransmitter imbalances through a program it called "Targeted Amino Acid Therapy (TAAT)." [39].
For many years, Alvin Stein, M.D., offered Hinz's treatment programs at his clinic in Plantation, Florida. Stein co-authored all of Hinz's journal articles and also operated a Web site (neurosciencemyths.com) that in 2012 offered a free referral service to "over 900 clinics around the USA." [40] In a 2014 brochure, he offered "world-wide telemedicine care for Parkinson's disease and other neurotransmitter related illnesses" to patients whom he did not see in person. The brochure also claimed that "the nutrients used under this approach are more powerful than any drug." [41] Stein died in 2017.
In 2014, another of Hinz's co-authors, Theodore Cole, D.O. founded the Institute of Neurotransmitter Science, LLC in West Chester, Ohio, which offers a 16-week online course for $4,495 on "clinical application of amino acids in order to normalize the function of the neurotransmitter system." The fee also includes a 1-year membership. The Web site indicates that "certification" will be available but has not yet posted details.
Ross Stewart. Ph.D., who was listed as an instructor in one of NeuroResearch's 2018 seminar brochures, is licensed in the state of Texas as a professional counselor. In a video posted to YouTube in 2018, Stewart described Hinz as a friend and colleague with whom he had been working for 16 years and consulting on an almost weekly basis [42].
In 2017, the Texas Medical Board ordered Stewart to stop practicing medicine without a medical license and said that future violations could trigger a penalty of up $5,000 per violation and/or each day of a continuing violation. The agreed order stated that he was treating customers with an undetermined substance that purportedly contained stem cells grown from the customer's blood but was actually a saline solution with vitamins. The order also said that he "sought to circumvent the law by having customers join the 'Turtle Healing Band,' allegedly an Oklahoma Native American Tribe, and signing unenforceable waivers purporting to release him from liability." [43] The Turtle Healing Band, which I have investigated, is part of a network of entities that issues credentials intended to help practitioners avoid government regulation [44]. At the time the board became concerned, Stewart owned and operated the Brain & Body Wellness Center) in Dallas, Texas, which was closed in response to the board's action. He now works as an "applied clinical nutritionist" at Parkinson's Clinic International LLC, where he offers treatment worldwide via Skype, FaceTime, or Go to Meeting. In March 2019, the program cost $3,952 for seven months of weekly consultations plus about $600/month for supplements that had to be be purchased through the clinic. That same month, the Better Business Bureau asked Parkinson's Clinic International to substantiate, modify, or discontinue several advertising claims on the company's Web site, including use of the word "clinic" in its name [45].
Hinz's approach to Parkinson's disease has another potential problem. Most patients who receive standard treatment use more than one drug so as to receive combined benefits while avoiding adverse effects from high doses of a single medicine [46]. The Hinz Protocol provides only L-dopa, which means that patients may be missing out on the benefits of combined medications. I doubt that most practitioners who follow Hinz's protocol have sufficient training to judge whether using prescription-drug combinations would help their patients. Moreover, many of the practitioners in his network are chiropractors and other non-physicians who are not legally authorized to write prescriptions.
Hinz's Improper Attack on Carbidopa
The most common standard treatment of Parkinson's disease is a combination of levodopa (l-dopa) and carbidopa. The motor symptoms of Parkinson's disease are caused by depletion of the neurotransmitter dopamine in the brain. Dopamine does not cross the blood-brain barrier, but levodopa can do so and converts to dopamine within the brain. Carbidopa prevents the conversion of levodopa in the bloodstream, which allows more of it to reach the brain. This means that lower doses of levodopa can be given and fewer side effects, such as nausea, are likely. Hinz promotes the use of an herbal product that contains l-dopa but advises patients and prospective patients to stop using carbidopa [47].
Several people (or their relatives) have told me that they had sought Hinz's treatment because they were afraid that standard treatment might make them die sooner. Hinz is orchestrating this fear. His Parkinson Clinics Web site states: "A review of the Center for Disease Control data revealed the death rate for the disease has increased by 390% since the first full year of marketing of this drug occurred." The review to which he refers is a journal article he co-authored in 2012 [48]. He is correct that the number has greatly increased, but does not prove that carbidopa was responsible. CDC itself has indicated that that "the increase might be attributable to multiple factors, including an aging population, greater awareness of the disease, and improved identification of cases." [49]. Recognition of the disease has increased significantly since the 1970s, partly because there are more effective drugs to treat it, so diagnosing the disease has value. Experts I have consulted agree that the death-rate increase Hinz trumpets is far more likely to be due to more accurate diagnosis than to carbidopa toxicity.
Hinz Follower Sued for Malpractice
Pamela Hutchinson, a Canadian naturopath, is being sued in connection with administering a Hinz Protocol to treat a woman who sought help with depression. The suit charges that Hutchinson failed to act appropriately when her symptoms worsened [50].
Why I Am Skeptical
Hinz and his associates claim that a long list of diseases and conditions are related to neurotransmitter dysfunction and can be helped with dietary supplements sold by CHK Nutrition. Here's why I am skeptical:
The scientific community recognizes a few rare inherited neurotransmitter diseases that involve inborn errors of metabolism or transport [51]. These are not included on the lists that Hinz's network has published.
Some of the disorders on Hinz's lists involve neurotransmitter problems, but I have been unable to find any research that supports the methods he recommends to treat them. The journal articles he has cited certainly do not.
Before posting this article, I asked Hinz whether any controlled clinical trial has ever demonstrated a favorable health outcome produced by one of his protocols. He replied that there are none. In 2019, he actually wrote that because "Nutrients are not drugs . . . . There will never be treatment clinical trials for the disease-like relative nutritional deficiency symptom research we have discovered." [52]
As far as I can tell, DBS's test methodology has not been independently validated as a useful diagnostic test. When I asked Hinz for citations to any relevant studies, he sent none but said that his articles served that purpose because they had been "independently verified by the peer-reviewers and the publishing company."
If Hinz's treatment methods were valid, he should be able to cite dozens of well-designed clinical trials that validate them. Despite extensive searching on PubMed and with Google, I have found none.
I also wonder about Hinz's honesty. His 2005 seminar brochure claimed that his methods had produced "100% resolution of depression symptoms" and "an average weight loss of 8.4 pounds per month in the first year." Do you think this is possible? If these claims were true in 2005, how come he hasn't published the details?
I am also concerned about the cost of CHK supplements, which are far more expensive than the drugs they are used to replace. CHK Nutrition sells only to practitioners and has the following policies: (a) patients should purchase supplements only from their practitioner, (b) practitioners should not sell CHK products to patients not under their care, and (c) retail prices should be password-protected if posted on the practitioner's Web site [53]. Based on data I have collected so far, many patients are being charged considerably more than what their practitioner pays for them and considerably more than similarly described products on Amazon.com. For some products, some practitioners are charging more than twice what they paid for them.
If you have been diagnosed or treated for a "neurotransmitter-related disease" as described in this article, I would be interested in hearing from you by phone (919 533-6009) or e-mail.
References
This article was revised on May 12, 2020.